In the BeTrousse Christmas Beauty Box there is a total of 7 full size products worth £97 but as usual with BeTrousse boxes you won't pay anywhere near that price. The Christmas Beauty Box costs just £19.
So whats in the box? Theres a few familiar products which have featured in previous boxes but the rest I haven't saw before.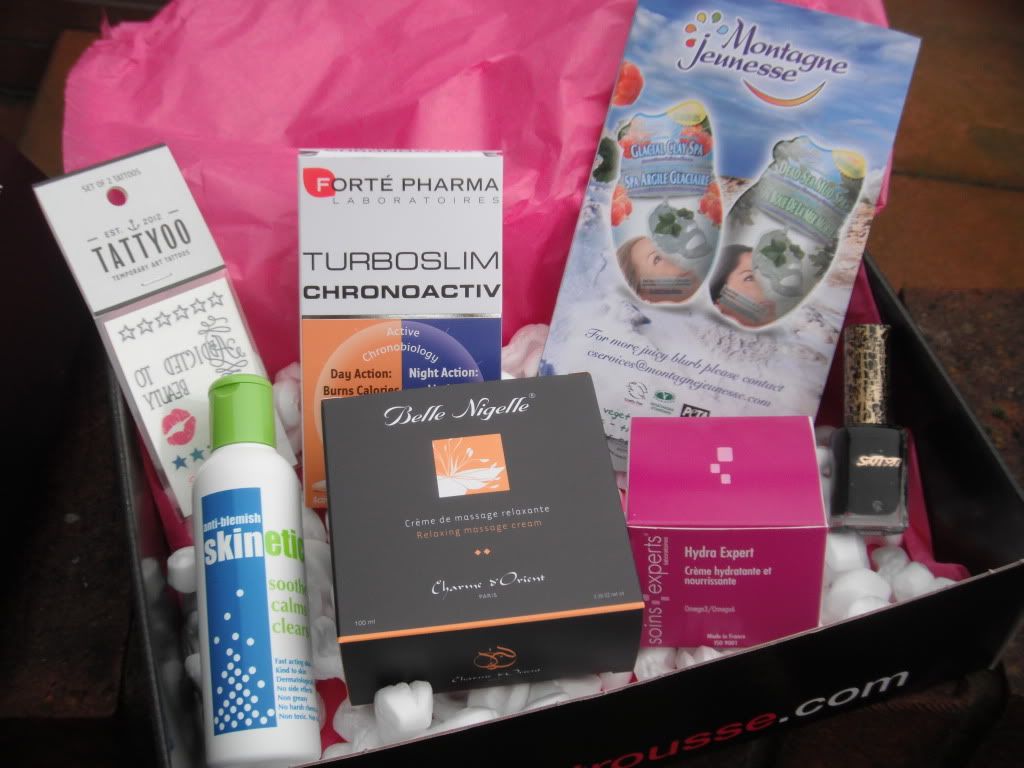 BeTrousse Christmas Beauty Box*
Charme D Orient Relaxing Body Massage Cream: You will either receive the Massage Cream or Bath & Massage Oil. Relaxing Body Massage Cream contains black seed oil, cinnamon essential oil and capsicum. The cream has a warming sensation when rubbed into the skin making it great for relaxing muscles. If you're lucky enough to have someone who never objects to giving you a massage then I can see this being a great product to have.
Size & price:
100ml -
£
16
Anti Blemish Skinetica: Skinetica is a non toxic blemish treatment. It's a non greasy liquid which you apply to your face after cleansing and it claims you will see visible results in just 2-3 days and best of all, it's suitable for sensitive skin.
Size & price:
100ml -
£
9.99
Hydra Expert Cream by Soins Experts: I'm always happy to see skin care in beauty boxes, especially when the product is designed for dehydrated skin which most of us have these days. Hydra Expert Cream treats wrinkles aswell as soothing and protecting the skin.
Montagne Jeunesse Dead Sea Mud Spa: I've tried Montagne Jeunesse masks before but never the sheet versions. You will either receive Dead Sea Mud Spa or Glacial Clay Spa. Both have specially sourced clays infused into natural bamboo fabric. I'm excited to give this a try, I'll let you know how I get on with it in my empties post.
Size & price:
1 mask -
£
1.49
Turbo Slim Chrono Active by Forte Pharma: 'Developed by Forté Pharma Laboratories and Dr Yann Rougier, TURBOSLIM CHRONOACTIV works in harmony with the body's natural biorhythm, with no nasty side effects. Known as slimming chronobiology, TURBOSLIM CHRONOACTIV provides different active ingredients at different times of the day to maximise or inhibit the way the body naturally processes and absorbs food. TURBOSLIM CHRONOACTIV contains collagen and elastin fibres which improve skin firmness and elasticity leaving you feeling great, both inside and out.' I just copied the blurb for you to have a read. I steer clear of any type of slimming pill. Apparantly there aren't any nasty side effects with these but they aren't something I would use personally. I'll pass them on to a friend.
Size & Price:
2 packs of 28 tablets -
£29.95
Saffron London Cracking Nail Polish (black): This made an appearance in the last box too. Saffron London Polishes are really affordable. If you've tried any let me know how you got on in the comments. I've never tried them myself.
Size & price: 14ml - 75p
BeTrousse Tattoo by Tattyoo: I'm not really at an age where I enjoy playing around with stick on tattoos. To be honest I can't see why these were included but I'm sure if you passed them on to young kids they would enjoy them.
What do you think of the Christmas Beauty Box?
Have you tried a BeTrousse Kit before?