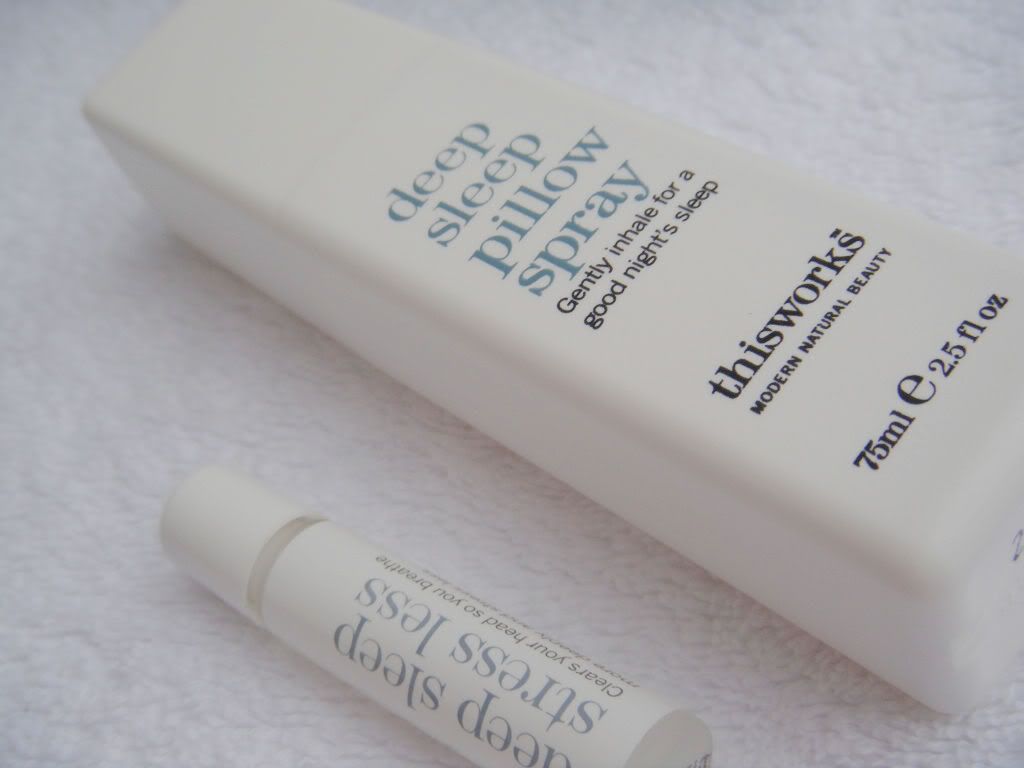 This Works Deep Sleep Pillow Talk Set

£20
My sleeping pattern used to be all over the place. I don't have insomnia but it take's me forever to doze off at night. Once I'm asleep I could sleep for days but it's the dozing off part I've always struggled with. No matter how tired I am my brain just won't switch off. Things are always ticking over in my head and as a result I've lost count of how many nights I've gone without sleep.
Lack of sleep interferes with your day to day life. It affects your mood, makes you feel ill and takes it's toll on your skin but not many people like the idea of using sleeping tables and seek more natural alternatives but often are left disappointed. I haven't tried many things to help me sleep, mostly because they're always scented with lavender which I hate with a passion. I tried a pillow spray a few years back and had to swap my pillows with ones from the spare room as the scent was so strong and made me feel really sick.
This duo from This Works contains contains 75ml Deep Sleep Pillow Spray and 5ml Stress Less Roll-On. They both contain lavender but for some reason I prefer the scent of the roll-on much more than the pillow spray so I make sure I only do 2 sprays on each pillow atleast half an hour before I get it to bed. By the time I get into bed the scent is just right, not overpowering at all and most importantly, doesn't make me feel sick.
The first night I tried the Deep Sleep Pillow Spray I fell asleep within half an hour. I've used it every night since I bought it and every night I've dozed off in less than an hour. Less than an hour might seem like a long time to people who fall asleep as soon as their head hits the pillow but for me it's a big deal! I'm not going to sit here and say it's all down to the scent, it could well just be placebo but either way it work's for me and I'm really impressed.
Deep Sleep Stress Less Roll-On is a soothing natural remedy which claims to help you breathe more easily and calm your senses. The scent is much nicer than the pillow spray but the staying power isnt great. I've been carrying it around in my bag and putting it on my wrists before bed. It does chill me out before bed or any time when I'm feeling a bit stressed but as I said, the scent doesn't last very long on the skin.
There's a whole host of products included in the Sleep range. I really want to try some more, especially the Deep Sleep candle.
Is my improved sleeping pattern all down to the magical ingredients in the Deep Sleep Pillow Talk set? Who knows but I've slept well every night since using it so for that reason I'll definitely repurchase.
This Works Deep Sleep Pillow Talk available from
This Works
Have you tried this duo or anything from the sleep range?