I'm 2 days late with this one! I usually shop my stash on sunday's and the post goes up on the same day but I've only just been able to snap some pics so Tuesday will have to do.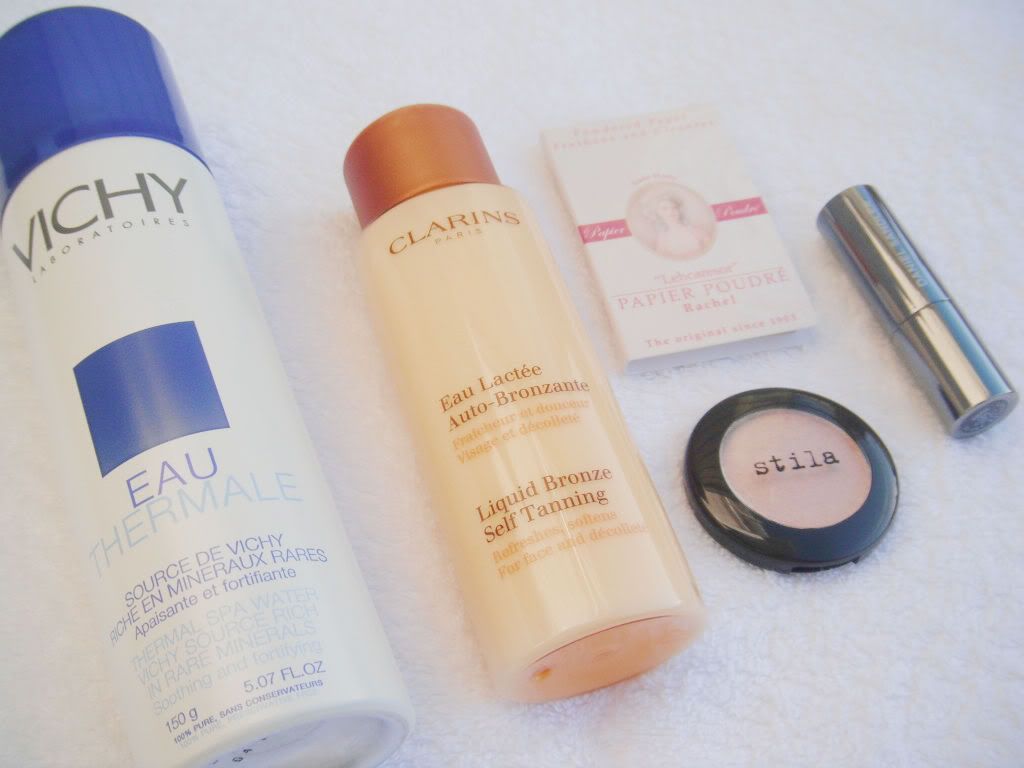 Vichy Thermal Spa Water: I'm still on a mission to make a dent in my mountain of half used products.I really enjoyed using this in Summer and it did seem to make a difference when my skin was feeling extra irritated but like everything else, it got pushed to the side and I started using something else. In the warmer months this thermal water feels really refreshing on the skin as it's really cooling but I'm sure it'll feel more like torture in this cold weather.
Clarins Liquid Bronze Self Tan For Face & Decollete:
I've barely used this since I reviewed it back in June
(link)
and to be honest I'd completely forgotten about it. I'm pale all year round but like everyone else I'm paler in Winter. My dark circles are more apparent and my skin looks alot less healthy. I find this face tanner great for disguising the look of dark circles and it does give a natural, healthy looking glow. I need to start applying this every other night.
Stila Eye Shadow 'Kitten': Kitten is one of my most recent purchases and something I've wanted for a long time. The texture is buttery soft and the colour is similar to what I always go for so I'm sure I'll love it.
Papier Poudre Blotting Paper*: I don't know why but my forehead has turned into a disco ball. I can't even describe it - it's oily but even when there's no oil it still look's shiny like someone is following me around all day shining a light on my head. These blotting papers from Papier Poudre are coated in oil absorbing powder and should hopefully help my forehead look alot less 'glowy'.
Daniel Sandler Lipshine Lipstick 'Hush'*:
Hush is a really easy to wear everyday colour. I reviewed it back in September
(link)
but since then I've been more into lip stains and Hush has been slipping deeper into the lipstick box of no return. It's non drying and should keep my lips feeling nice and soft in this ice cold weather.
Are you shopping your stash this week?