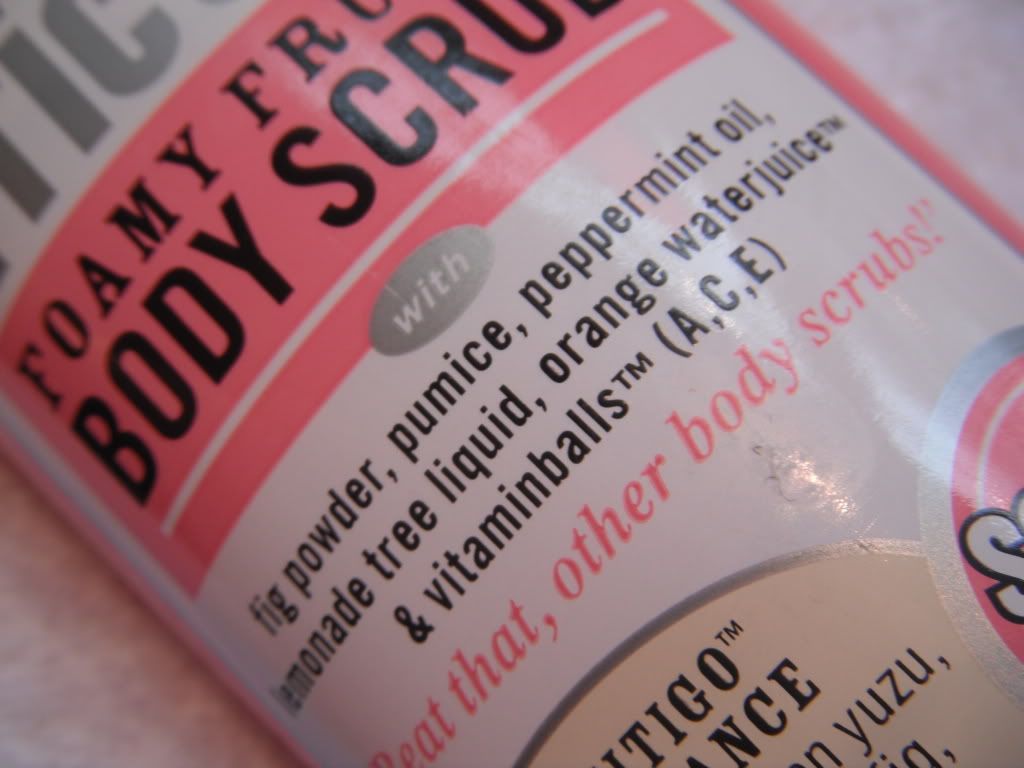 Soap & Glory Pulp Friction Foamy Fruity Body Scrub 250ml £8
I'm a bit late on the Soap & Glory band wagon but better late than never eh? I've only tried a few things from the brand so far and the main reason behind me buying them was the constant rave reviews mentioning how good they smell. As I just said, I've only tried a few products so far - Pulp Friction, Calm One & Clean On Me but the scents don't really do it for me. Clean On Me and Calm One smell just like generic shower gels and Pulp Friction has to have the most synthetic fruity scent in the world. Scent aside, Pulp Friction is a pretty good body scrub and is great for anyone who doesn't want an oily film left over their skin.
The packaging gets a thumbs up from me. I much prefer scrubs in squeezy tubes. It saves me digging in a huge tub and ending up with annoying bits of scrub under my nails. The scrubby bits are small but densely packed which makes for a great scrub and apparently contains some fancy ingredients such as Vitamin Balls? The directions say to apply Pulp Friction to damp skin skin but I find it works best if you apply it dry first and have a quick scrub then damp your skin and carry on scrubbing.
Pulp Friction is a really good scrub and completely removes those annoying dry patches but it does contain SLS so some people might find it a bit drying.
Soap & Glory Pulp Friction available from
Boots
Have you tried Pulp Friction before?