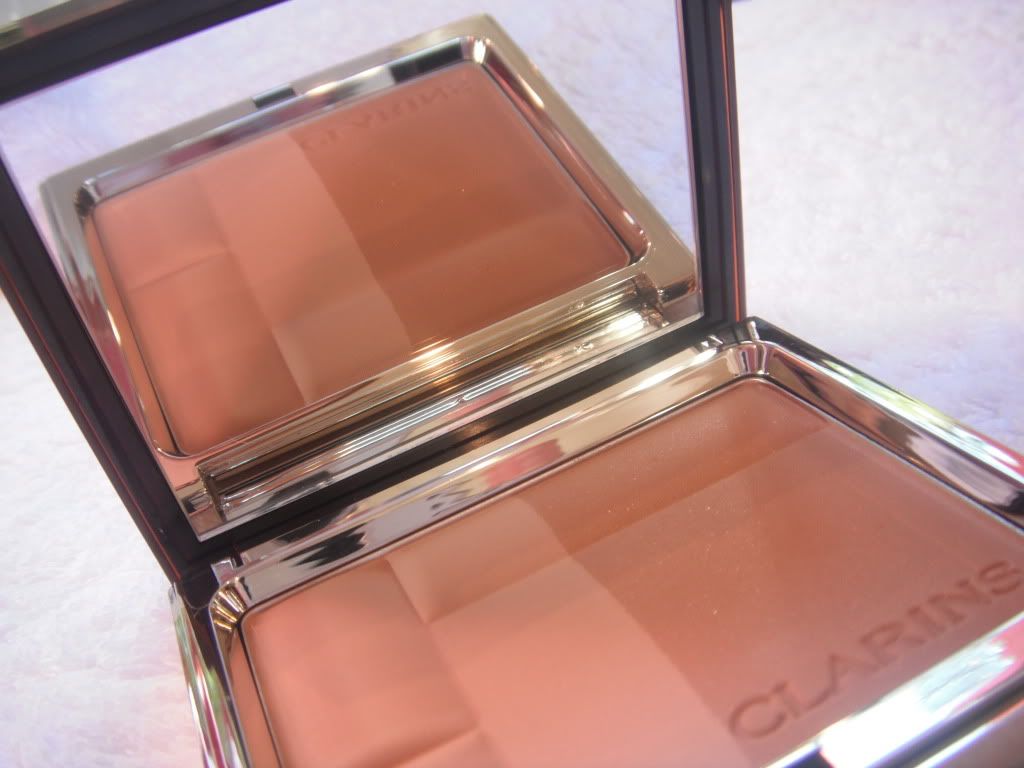 Clarins Bronzing Duo '02 Medium'
This Bronzing Duo from Clarins is my new best friend. It was a spur of the moment purchase but a bloody good one at that! As with all Clarins products the Bronzing Duo's are beautifully presented with a little pouch to keep your compact scratch free. The compact itself is easy on the eye and features a large mirror making it a perfect handbag resident.
Clarins Bronzing Duo is 100% mineral complex with SPF 15. It is available in 3 shades - 01 Light, 02 Medium and 03 Dark. I went for 02 Medium as I still wanted it to show up when I'm wearing tan but I could get away with 01 Light too.
Having two separate shades is a brilliant idea. It eliminates the need for multiple bronzers to suit your skin throughout the year and the lighter shade can even be used to set foundation. Both shades are large enough to be used separately without any fuss and the pigmentation is what I would describe as just right. A little goes a long way but you aren't going to look over overdone. Both shades blend together really well without ever looking cakey or chalky and although there is some very fine shimmer running through the bronzer it doesn't transfer onto the skin which makes it great for anyone with large pores or wrinkles. Instead of shimmery cheeks you are left with a natural, healthy glow but of course you can build it up as much as you like. I also love how the powder is firmly pressed and doesn't fly everywhere when I'm swirling my brush around.
On my skin the darker shade tends to last all day and it's great for carrying around to keep oil at bay with the lighter shade.
Clarins Bronzing Duo £26 from various online retailers but currently £23.40 in the
Debenhams sale
Have you tried Clairind Bronzing Duo?
What's your fave bronzer?