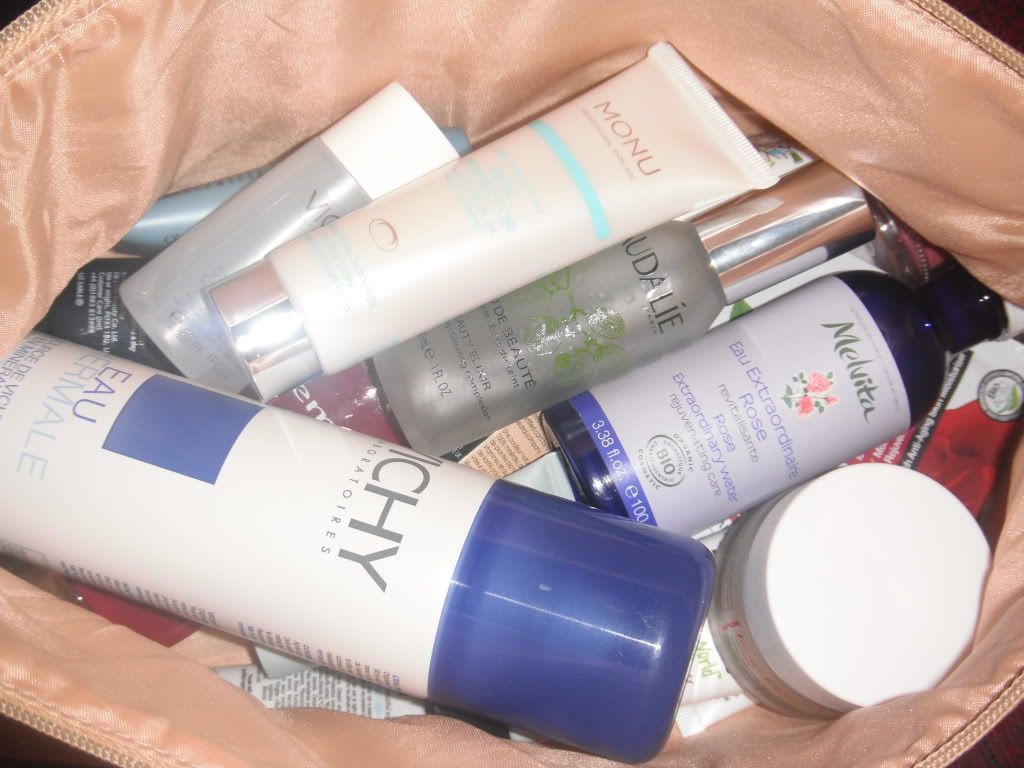 If I was asked to pick between skin care and make up, skin care would win everytime. I'm obsessed with ingredients and their benefits and at home I'm known as 'The Skin Care Police'. I've even managed to get my dad to exfoliate and use a good quality cleanser. Yes, he only does it to shut me up but atleast he does it.
When I first started getting into skin care I was really confused. Theres cleansers | toners | serums | eye creams | moisturisers | balms | spf | exfoliators | masks and so on. I would buy loads but never know what order to use them and half the time I didnt know how to use them at all.
I'm not claiming I know everything there is to know or anything like that but what I do know might be of help to someone else.
Cleanser: If you get the basics right then you're halfway there. A good cleanser that suits your skin well will make a world of difference to the overall look and feel of your skin. Introducing a muslin cloth to your cleansing routine will gently exfoliate and I promise you'll see such a huge difference just by doing this, Your make up will apply easier and you wont suffer from flaky dry patches.
Double Cleanse: Always remove your make up! I know sometimes it can be such a pain and its the last thing you want to be doing when you're really tired but your skin will thank you for it. If you're wearing heavy make up then always do a double cleanse to make sure you havent left any behind.
Toner: Toner is something that not everyone uses and I'm sure everyone who has, has had a bad experience at some point. My first time using a toner resulted in stinging, tightness and a red blotchy face. It was honestly like applying nail polish remover to my skin! Drugstores do some brilliant budget beauty products but I really wouldnt recommend any toners you see on the shelves. A toner helps remove any dirt/grime/cleanser/make up that might be left on your face after cleansing, it also helps restore the skins acid balance after cleansing. Two that I fully recommend - Liz Earle Skin Tonic & Elemis Apricot Toner.
Next comes SPF | eye cream | serum | moisturiser | oil. The order in which to apply these can be very confusing.
SPF: If you use SPF then it always goes on first to make sure it adheres to the skin and not to any serums that may be under it, otherwise it would just slip/rub off throughout the day.
Eye Cream: After SPF comes eye cream. The eye area is one of the first places to show signs of ageing, the skin around the eye is a lot thinner than the rest of our face. Your daily moisturiser should not be used in place of an eye cream, you'll end up with puffy eyes and milia. Eye cream should always be applied to the orbital bone unless its been designed to be used right upto the lash line/over the lid.
Serum & Moisturiser/Oil: If you use a serum then now is the time to apply it, followed by your moisturiser/oil (dont take it up passed the orbital bone).
Exfoliators & Masks should be used twice a week, unless your skin requires more or less but twice a week is enough to keep the skin in good condition without over doing it. Always exfoliate before using a mask, theres no point in layering a mask on top of dead skin, its a waste of product, money and time. Exfoliating first will make sure you get the best results from whatever mask you're using.
I know make up is a lot more exciting than skin care but if you treat your skin well then you wont need as much make up. If you wouldnt think twice about spending X amount of money on make up then the same should apply to skin care. Its your skin, your stuck with it for life so why not invest in it.