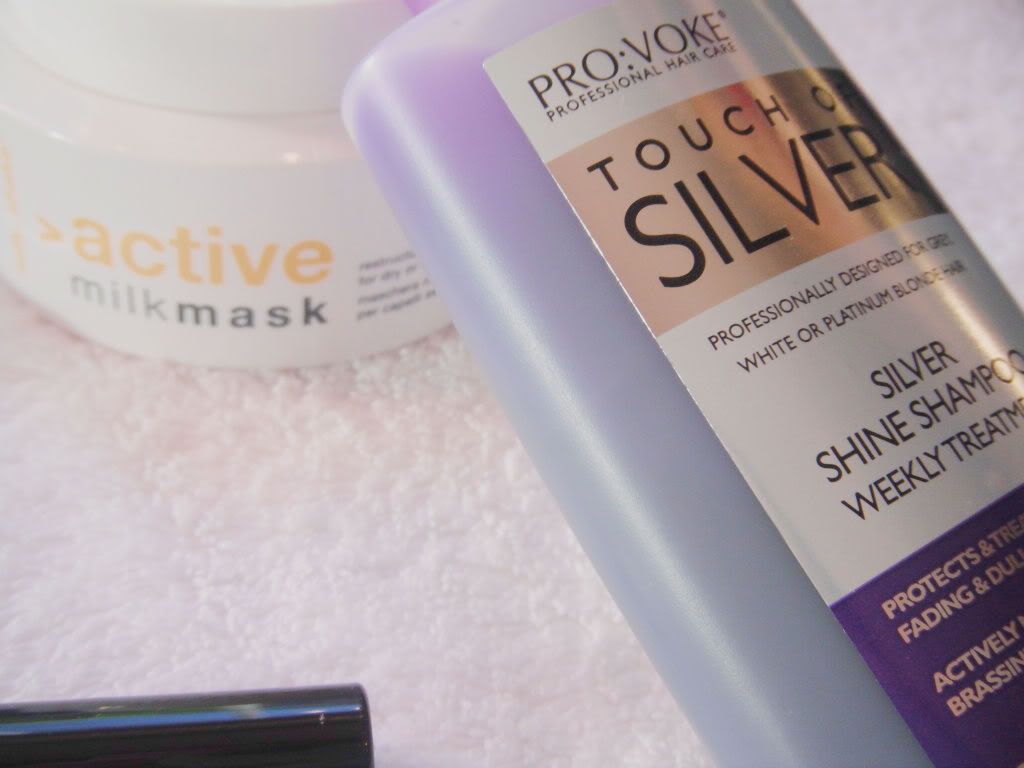 This month has been a bit of a funny one. I've been busy and haven't had as much time to try out as many products as I normally would. I haven't had much free time to draft up post's either but the 4 item's I'm featuring are good'uns! :)
Pro:Voke Touch Of Silver Shine Shampoo Weekly Treatment: Everytime I add blonde to my hair I go back to this shampoo. It work's in the same way all purple shampoo does. It's designed for grey, white and blonde hair. The purple actively neutralises brassiness, protects & treats yellowing and prevents your hair colour from looking dull. With working in a salon I was able to try all different brands including the more pricey L'Oreal Professional version which stained my hair purple! I've never had any staining from Pro:Voke and instead of using it weekly as directed I use it everytime I wash my hair and leave it on for 5 minutes. It's a complete steal at around the £3 mark and in my opinion it's the best.
Milk_Shake Active Milk Mask*:
Another hair product has made it's way into my favourites this month. My hair has always been dry but with adding more blonde I swear I can hear it screaming out for moisture at times and this mask has been my most reached for. Not only does it detangle my crazy head beard but it also leaves it so soft and smooth once straightened. It improves the overall look and feel of my hair but doesn't leave my hair feeling heavy or looking flat.You can read my review
here
if you want to know more.
Clarins Bronzing Duo in 'Medium': This is by far the best bronzer I've ever tried. Don't get me wrong, I haven't tried every bronzer there is but for me this duo from Clarins is perfect. It's pigmented and last's a full day on my skin. I use the lighter shade to set my foundation and it never look's cakey. I'll try to get a post up in the next few days.
Sephora Jumbo Liner in '04 Taupe':
I just posted about this yesterday
(link)
If you're like me and feel like Pat Butcher everytime you try some colour on your lids, are cack handed with eyeshadow looks or are just too lazy to try then you need one of these jumbo pencils in your life. I just scribble it across my lid then blend it out either with my fingers or a brush. It doesn't budge, smudge or crease. I love it!
Have you tried any of these products?
What made it into your favourites this month?